My Disney dream job will come as no surprise. As anyone who has read my blog knows that I not only love Disney and dining but cooking as well. Even though I have nearly 100 cookbooks, they are more a resource tool than something I follow. I delight in creating my own dishes and experimenting with new ingredients. So on to the dream job.
One of my favorite Disney movies is
Ratatouille
and it's by far my favorite Pixar film.
Ratatouille
delivers a great message, or should I say messages. In a nutshell, it's about having passion, determination, and belief in yourself that you can do anything. In the words of Gusteau, "Anyone can cook!". Not just cook but anyone can do anything they want.
So what does the movie
Ratatouille
have to do with my dream job? Well, Disney is known for it's theming. You have Tony's Town Square inspired by
Lady and The Tramp
, Cinderella's Royal Table inspired by what else...
Cinderella
and Chef Mickey's inspired by no other than the big cheese himself Mickey Mouse. I'd love to open my own themed restaurant,
Ratatouille
inspired of course.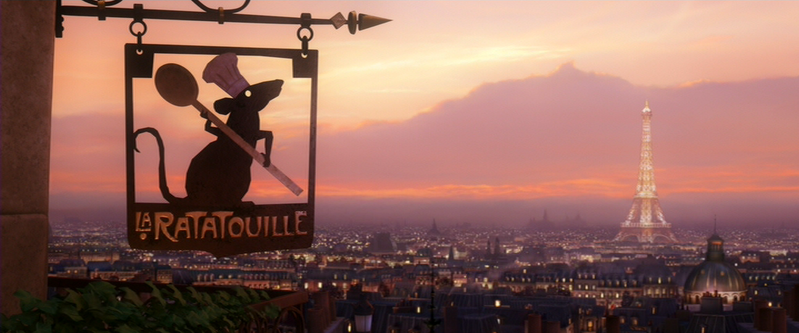 This restaurant would be located at one of the deluxe resorts and feature fine French cuisine. The dining room would have warm rich colors, white linen table cloth, crystal chandeliers, fine china and fresh flowers. The staff would be exceptional with incredible menu knowledge to provide you with an outstanding dining experience, and since this would be a signature dining experience they'll be dressed in tuxes. The menu would change seasonal as to only use the finest, freshest ingredients available. You're experience would be fine dining serving 5 courses with wine pairings to match each course.
Since the restaurant would be a variation on Gusteau's from the film I'd name it La Ratatouille by Remy. If you remember the last scene of the movie is of Remy's restaurant, La Ratatouille.
Exactly what would I be doing at this restaurant? Besides being the owner, I'd also be the Executive Chef creating the seasonal menus. So as you can see it is no surprise as to what my dream job would be.
Cooking with Mickey Fans
Follow on Twitter
Like on Facebook
Subscribe to the YouTube Channel