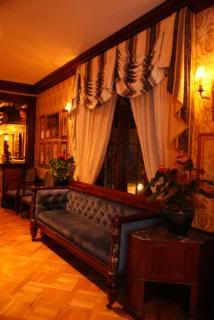 Club 33, a members only club that is hidden inside New Orleans Square at Disneyland Park. It is so hidden in fact that even some Cast Members can't tell you where it is. Located at 33 Royal Street, Club 33 was created from Walt Disney's vision of being able to entertain guests in a quiet, elegant atmosphere that offered excellent cuisine. It contains the Gallery, Trophy Room, Disney Room and Main Dining Room, all decorated with 19th century French Quarter style. The restaurant has a minimum food charge of the price of a one day park ticket and a business casual dress code. It is the only place inside the park that you have the privilege to be served alcohol but you must remain inside the club. You aren't allowed to use cell phones while inside the club and must adhere to proper conduct.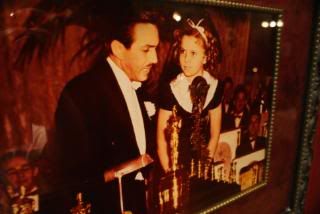 Since this is a members-only club there are two ways that you can get to dine. The first is to be a member and pay a membership fee in addition to an annual fee. The second, which is what we were, is to be lucky enough to know someone who is a member and them make you a dining reservation. My husband was offered a reservation by co-worker who knew we were going to Disneyland to celebrate our anniversary and was kind enough to schedule it for our last evening. As we approached the door to Club 33 we noticed no immediate sign of a doorbell, due to the fact it is hidden. After ringing the doorbell we were asked for our name and in a couple of seconds a women opened the door to allow us in. She made a call and then escorted us to an old French style elevator. We were sent up one floor and greeted by a hostess who sat us at a table located in the Main Dining Room next to a window that overlooked where Fantasmic was to be held.
Within a minute we were greeted our server, Becky (I believe that was her name). My husband placed his order for a Skyy vodka martini on the rocks (9.25) while I looked over the wine list before deciding. After a few minutes I too decided on a Skyy vodka martini, however, mine would up and extra dirty. Once our drinks arrived we placed our order. After our servers description of the monk fish I went with that over the chicken.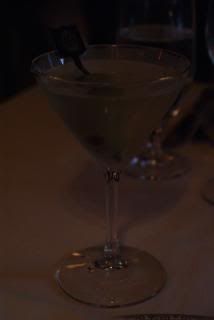 For my appetizer I chose the Heirloom Tomato Gazpacho (9), chilled fresh tomato soup with bits of cucumber and fresh thyme. This was wonderful! It was refreshing, light and had a slight sweetness to balance out the acidity of the tomatoes. It was a perfect to start to the meal. As for my husband, he ordered the Baltimore Jumbo Lump Crab Cake (14) topped with Spinach Buerre Blanc and served with two pieces of claw meat and asparagus spears. This was cooked to perfection. The crab cake contained very little binding and large chucks of crab meat. My husband said he'd never had a better crab cake.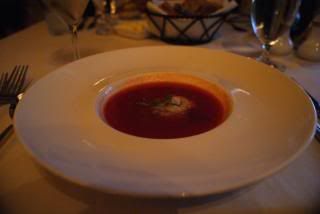 While waiting for our entrees a table near us with a large party began getting very loud. It was clear that we weren't the only people bothered by them because we could hear the family next to us talking about how rude they were. As the night went on this table's behavior only got worse. The kids starting playing in the dining room, discussions of "boobies" and "poop" could be heard throughout the entire restaurant and they decided to go out on the balcony to watch Fantasmic and lean up against our window (so I politely asked them to not stand there so we could view the show).
My main coarse was the Roasted Monk Fish (34) with Rock Lobster Bisque Sauce topped with sweet Maui onions and spiced arugula served over pureed potatoes. This dish was absolutely delicious! The monk fish had a very similar taste and texture to lobster which made the bisque paring perfect. The bisque was rich and cream and went very nicely with the potatoes. The Maui onions and spiced arugula add a lightness to the dish that was a great contrast to the richness of the bisque. This was one of the best meals I've ever had. My husband ordered the Filet of Chateaubriand (42), medium. It was served over potato leek puree and topped with green and white asparagus and a vintage port demi glaze. The filet was cooked perfectly. It was tender, moist and melted in your mouth. The potato leek puree was light, fluffy and had a hint of the leek and butter. My husband thought this was an excellent dish and said it was on par with Le Cellier which is his favorite.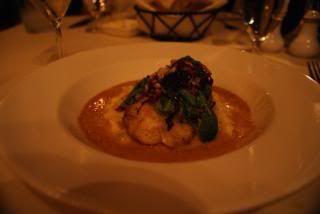 I had also ordered the Regional Artisan Cheeses (14) which was comprised of three cheeses (similar to swiss, mozzarella and cheddar) served with crackers, peach, apple, kiwi and candied orange to be served after my entrée. We were full so we decided to take them back to the hotel and then finish them on the plane the next day with some wine.
Since it was our anniversary we were surprised with two chocolate mousse domes, one which was Mickey and another as Minnie. It was quite delicious! While enjoying our dessert we watched Fantasmic from our table.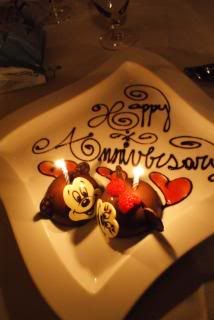 After dinner we decided to walk around Club 33 and check out all of the photos, artwork and decorations. The first thing that I noticed was that the Gallery smelled of fresh cut flowers. There were several large floral arranges located in the Gallery and connecting hallway. The Gallery featured a hand-painted piano and artwork for Pirates of the Caribbean and the hallway contained a few photographs of Walt Disney.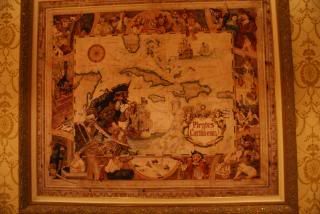 Twitter.com/CookingwithMickey
Cooking With Mickey