The Blue Bayou is a New Orleans cuisine restaurant located inside the Pirates of the Caribbean attraction in New Orleans Square at Disneyland. It sits on the waterway of the attraction similar to San Angle Inn in the Mexico Pavilion of Epcot. It is beautiful with it's colorful light fixtures, view of the water and dim lighting. We arrived at 7:45 pm for our 8 pm priority seating reservation. We asked if we could have a table by the water and she said she'd see what she could do. We waited about 10 minutes before being seated a row back from the water. We still have a great view of the attraction and could watch the people going by on their boats as they entered the main part of the attraction. We had ridden the ride prior to dining so we were really looking forward to dining here with the beautiful atmosphere and delicious cuisine.
Let me start off by saying that when I was in college I waited tables at Copeland's of New Orleans (in Nashville) for over 3 years so I'm familiar with Cajun and Creole cuisine. New Orleans is a city that I consider to be a culinary city with it's unique cuisine due to it's influence from the French and Spanish. So I guess what I'm trying to get at is that I'm particular about my New Orleans food and expect a lot.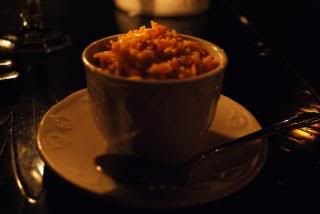 For dinner I ordered the Jambalaya ($29) and he ordered the Crab Cakes ($33). Both came with choice of salad or gumbo. Both of us decided to go with the Chicken Gumbo. I'm a big fan of gumbo and I like it with either chicken or seafood. I was really looking forward to this! Our cups of gumbo came and you couldn't even see the gumbo. It looked like a big bowl of rice. I stirred it up and found it to be more than half rice. The gumbo had a decent flavor. It was spicy, which is how I like it. The rice however wasn't completely cooked. Most of it was hard and crunchy. The vegetables in the gumbo were overcooked. The combination of mushy vegetables and crunchy rice wasn't to my liking. I was hopeful that the Jambalaya was going to be much better. I had seen a bowl of it the table over, it looked pretty good and was piping hot.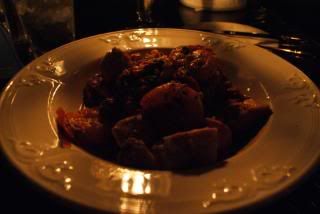 It was taking awhile for our food to be made which is okay with me as long as it's good, hot and fresh. Our food finally arrived and it appeared to have a lot of seafood. The crab cakes too looked good. I took a bit of one of the pieces of fish to find out that it was cold. So I dug a little more into the dish thinking that the center has to be hot. No, it too was cold. I took a couple more bites before the waitress stopped by the table again. I asked her if they could heat up my dish because it was very cold. She said that she'd have the kitchen make me a new one. In a couple of minutes she returned with what I thought was going to be a new bowl. She told me the kitchen said it was going to take longer than 5 minutes so for her to reheat it in the microwave. I was disappointed to hear this because she had said she'd get me a fresh one. I took a bite and it was warm, not hot. When she asked how it was I told her it was better but "just okay". The dish wasn't good at all. Not only was it cold but it also it tasted like it was made well in advance. Which made me think I got the last of what was made for the day and why they weren't going to make me a new one. The flavor wasn't very good either. It tasted like they had put way too much tomato paste in and used ground cayenne pepper for seasoning. I've made better semi-homemade jambalaya with Zataran's than this.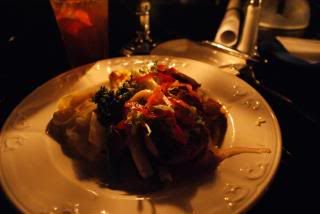 The crab cakes were better but not the best. The were served with these cheesy potatoes that were by far the best part of the meal. The crab cakes contained a lot of breading. They were very heavy and not full of crab. My husband said it was okay but he had expected it to be better.
Our server decided to bring us chocolate mousse to celebrate our anniversary and I have to say it was by far the best part of the meal. The mousse was light, fluffy and nice and chocolaty. I wish I had just ordered it!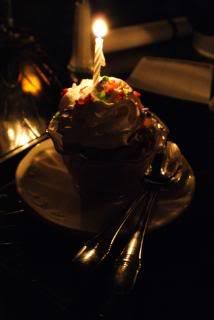 This is a restaurant that I would only go back to for dessert and coffee but never a meal. I give the food a 1/2, the service a 3 and the atmosphere a 5.

Twitter.com/CookingwMickey
Cooking With Mickey Blog